After riding my first Harley as a teenager, I knew I needed to own one some day. Wanting a Harley probably motivated me to finnish collage more than anything else. My first major purchase after graduating was this 1981 FLH 80 Classic.

I purchased the bike from a relative in 1989. The bike was in near perfect shape as you can see from the photos. However, it rattled and shaked as it rolled down the road, like most Harley's, yet it was a great bike.

The bike was a full dresser with every extra including a CB stereo.

Over the next few years I slowly stripped the faring, luggage and miscellaneous chrome parts off the bike to help reduce it's weight. Eventually I ended up with that looks a lot like a Fat Boy. Harley came out with the Fat Boy a few years later; do you think I had something to do with it?

I also started working on replacing miscellaneous internal engine parts to help quite down and smooth out the V- twin. At that point, the bike was a perfect highway bike. I would regularly take it on long trips rarely having any mechanical problems. When I did have a mechanical problem, it would be something small and easy to fix like a bolt coming loose.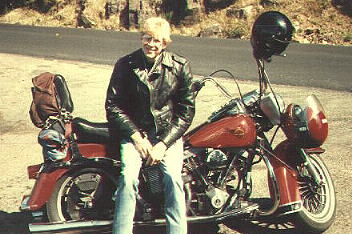 I rode the bike every day year around. Although I have rebuilt the motor many times, I have never had a breakdown (that was not easily fixed) while on the road. I can't say that about my Gold Wing!

I even rode the bike form Oregon to Ohio and back in one week.




After years of use and many rebuilds, the unthinkable. I was rear ended by a moving van! I was squashed between the van and the car in front of me. As you can see from the photo the bike was totalled.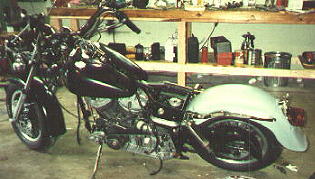 I decided to rebuild the bike from the frame up. I did all of the work myself with the exception of having the frame pouter coated. I even constructed a temporary paint booth in my garage to paint the bike in.
When I was done, I had a custom Harley with parts from the '50s through the '90s.
Don't you hate it when you finnish putting something back together and you have some left over parts!

With the 21" front wheel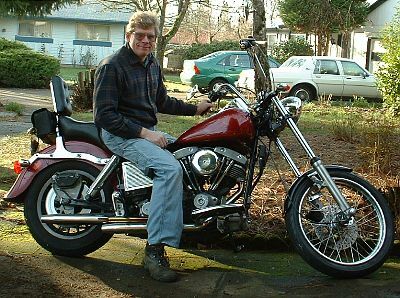 While rebuilding the Harley, I purchased an old Honda to ride. Somehow, don't ask me how... I got interested in racing Motorcycles.

I got so hooked on racing that I even sold my 1963 Chevy Impala to purchase a new racing bike! Somehow racing seems to have dulled my interest for the Harley.