---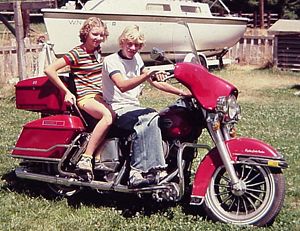 When I was a teenager my father had a number of motorcycles - which is how I became interested in motorcycles. By far the coolest of his bikes was a 1980 Harley-Davidson FLH. After riding it I set a goal to have one some day. That day came in 1989 when I graduated from collage and could finally afford a nice motorcycle - I found a 1981 FLH that was just like dad's only cooler.
I rode the FLH almost every day during the first five or so years that I owned it. Then on my way to the Oregon coast one weekend, I was rearended by a U-Hall moving van while waiting at a red light. The van hit me hard enough that I hit the car in front of me which hit the car in front of it! It took me about a year to rebuild the Harley, during which time I became interested in sportbikes. Although the Harley was better than new after rebuilding it, my interest had shifted to racing motorcycles. After becoming interested in racing motorcycles, I rode the Harley as seldom as once per month or less. Meanwhile Back in the 1980s dad eventually traded his Harley for a Goldwing and then sold the Goldwing a few years later. So, by the year 2000 dad was without a Harley and I had one that was not being used.
In the mid 1980s dad also caught the flying bug. He started with a 1969 Cessna 150 that he purchased in 1986. Then one day while working on his 150 out at the airport, he watched as a taildragger made touch-and-goes. Watching that plane that looked as a plane should look convinced dad he would prefer having a taildragger. Less than a year later he found a great deal on a 1950 Cessna 170A located down in California which he purchased over the telephone. Dad flew the 170 regularly for the remainder of the 1980s and 1990s.
Then in August of 2005, dad mentioned he was thinking about selling his 170. He was thinking of selling because the cost of flying had increased, dad didn't fly as often as he had, and, the plane had appreciated quite a bit in value. He figured he could sell the plane, purchase a Harley, and still have quite a bit of cash left over. I could not believe my ears - I didn't think dad would ever sell his 170. At that time I was not in a position to purchase an airplane due to having a daughter who was just about to start collage and also having about four years remaining an a purchase contract for an accounting practice. I was also broke due to purchasing an office building several years before. However, I did have an old Harley-Davidson just like the one dad had only cooler!
We started talking and after a little negotiation - we worked out a trade. (Dad thought the plane was worth less than it was and the Harley was worth more than it was - I thought the opposite.) Shortly thereafter in September of 2005, dad came down with my brother and retrieved the Harley. The following month dad flew the plane down from Spokane. That is how I ended up with a beautiful 1950 Cessna 170A.
I can't express how blessed I feel. The idea of owning an airplane is hard to comprehend. On top of that, I have what must be one of the most enjoyable and useful airplanes ever built. To start with, landings and takeoffs bring me much more enjoyment in my taildragger. The joy of lifting the tale and accelerating down the runway on takeoff is impossible for me to express. The same goes for keeping the plane headed straight down the runway after touchdown. (Both things tricycle pilots are not able to experience.) Another benefit of the 170 is it can take four people across the state in less than one-half the time it takes to drive. This compares with planes costing ten times as much. The 170 is also extremely inexpensive to maintain (compared to other planes) and gets about the same mileage as an SUV.
---